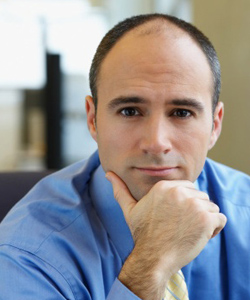 "I keep my finger on the pulse of the over-the-counter drug category."
Discovering emerging trends
I am an LNK marketing manager. I deal in information and intelligence. The kind that can help our retail customers make smart market decisions. So I study them in depth and ask a lot of questions to understand their needs and their competitive environment.
At the same time I constantly keep my eyes and ears open to gauge the needs, likes and dislikes of their customer: the end consumer. I keep my finger on the pulse of the over-the-counter drug category, looking for significant information or promising clues.
I research to determine the latest emerging trends in the marketplace, as they can shift rapidly. Are consumers looking for products that deliver pain relief in a shorter time, like our rapid release gelcaps? Are they looking for smaller, convenient packages, like our vials? A change in packaging can often create an entirely new and profitable product line for retailers who are quick to respond and take advantage.
Because I have input from so many marketplace contacts I can confidently recommend new products to our customers and work with them closely to oversee development. That means creating a timeline that includes development in the lab, testing of the product by an outside third-party lab, as well as packaging development—which could be a bottle with a label or a blister in a box or a vial. Or something that no one has imagined yet.
I tell our customers that we don't just offer them the highest quality product; we offer market intelligence to go with it.
To keep the information flowing both ways I'm in constant contact with our customers—and potential customers—personally, as well as via advertisements in the trade press, press releases and through this website. We all live in an information society and that's where LNK excels.